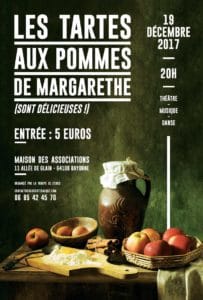 Dear Epaphras,
Tonight in Bayonne, France we have a special opportunity.  The Mayor of Bayonne has allowed us to use a public building for our theatrical outreach – not a small feat when you consider the anti evangelical bias of the government.  Did you know that Martin Luther (a father of the protestant reformation) was famous for saying (among other things), "even if I knew that tomorrow the world would go to pieces, I would still plant my apple tree."  Junior Damaceno, our pastor and play-write, is telling the story of the protestant reformation from Margaret Luther's perspective who turned Martin Luther's love for apples into delicious pies.  Its a brilliant angle and contains a clear presentation of the Gospel.  We've invited more than 1500 people and would ask you to pray for at least 160 to show up – which would max out our capacity.  Pray the Lord would make our message (The Gospel) and follow up conversations clear!
Mom update…
A couple weeks ago we asked you to pray for Steve's mom, Jean Lee Currey, who had just been moved into hospice care.  Today, we learned that she has been doing so well that she was discharged from hospice and able to regain her usual 7AM to 7PM activities at the Silverado Memory Care facility in Salt Lake City, Utah.  We are grateful the Lord has seen fit to add days to her life.  Pray she would continue to be an encouragement to the staff and fellow residents – last time we visited the staff went out of their way to mention that mom is by far the most encouraging and positive resident they have.  While her memory is failing, we are grateful her physical situation has dramatically improved.  Thank you for your prayers.
Year end donations and encouraging financial update…
Last week we asked you to pray for our 2018, $1850 per month short fall.  Well, due to the Lord's goodness and faithfulness and a few very generous donations, our 2018 shortfall has come down from $1850 per month to $1125 per month!  God has been so good to us!  Click here for more details and giving opportunities.
We are grateful for your partnership in the Gospel here in Europe.
With Love, Steve, Sara, Annie and Julia